Traveling to New York to run the New York City Marathon? Whether it's your first time visiting or you've been several times before, it is hard to resist the temptation to explore New York City even though you know you should be resting your legs. Luckily, here are 5 non-walking ways to explore the city so you can experience what NYC has to offer while saving your legs for the big race.
Manhattan Island Cruise
For unparalleled views of the skyline, Statue of Liberty, and Brooklyn Bridge, take a sightseeing cruise around Manhattan, like this one offered by
Circle Line
. While it might be chilly in October, you'll be able to see all five boroughs, three rivers, seven bridges, and over 25 landmarks without having to walk at all.
Hop-on Hop-off Tour
Take the
Big Bus New York Hop-on Hop-off Tour
to visit more than 30 stops around New York City. You'll get great views of the city from the double-decker bus. Explore Manhattan on the downtown and uptown loops – each take about 2 hours to complete.
Broadway Shows
Broadway boasts some of the greatest shows in the world. Buy some tickets to see a show. My favorites include
Wicked
and
Phantom of the Opera
. Buy tickets in advance online, or try to get discounted tickets at the
TKTS Discount Booths
located in Times Square, South Street Seaport, and Downtown Brooklyn, which sell same-day theater tickets for up to 50% off.
Carbo-Load Like a New Yorker
Carbo-loading is a great excuse to try some of the best pasta restaurants in New York. Below are some of my favorites.
L'Artusi (228 W 10th St, New York, NY 10014). For some delicious pasta and the best olive oil cake you'll ever eat, visit L'Artusi in the West village. This restaurant serves consistently good food with service that is attentive but not overbearing.
Scarpetta (355 W 14th St, New York, NY 10014). Handmade pastas are Scarpetta's specialty, and the restaurant's bread basket is definitely among the best I've ever had (the salami stromboli is so good I could eat an entire meal of it). While dining at Scarpetta, you must try the spaghetti – you won't regret it!
Basta Pasta (37 W 17th St, New York, NY 10011). Ever try Japanese-style Italian food? That's exactly what Basta Pasta serves. It is perhaps most famous for its spaghetti con prosciutto e parmigiano.
Relax at the Ancient Baths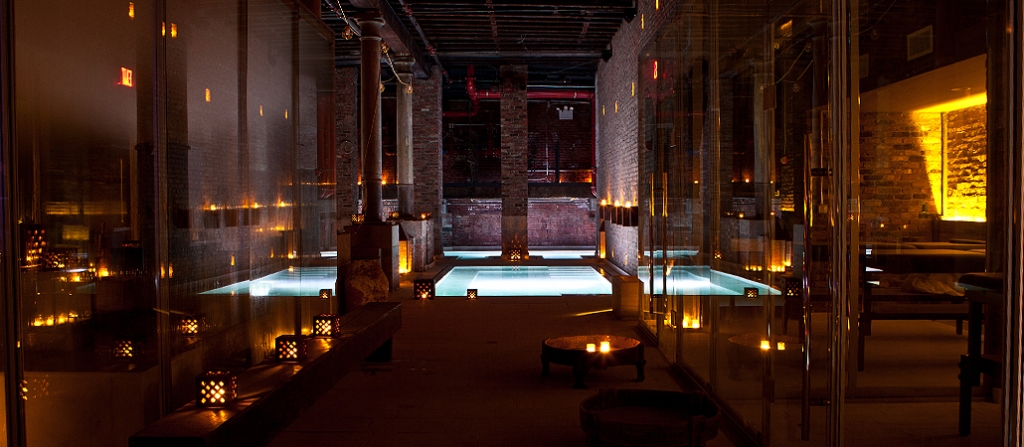 Relax before or after the NYC Marathon at
Aire Ancient Baths
. With six different pools with varying temperatures from 46 to 102 degrees and a large steam sauna, the Aire Ancient Baths are a great way to decompress and unwind.
As an added bonus, Aire is currently running a marathon special. For $150 per person, you get 120-minute access to all the baths and a 30-minute massage focused on your legs. The special is available Monday through Thursday, October 26 to November 5, 2015.
Read More